Handle fabrics without creasing
µGripper is an electrostatic gripping system that can be used to manipulate fabric or other thin, non-rigid types of materials.
With µGripper, you'll have access to a non-invasive gripper that:
Leaves no creases nor marks;
Grabs the topmost fabric from a pile;
Allows precise placement over other materials.
Improve your production and fabric handling capabilities by using an innovative technology that does not affect the shape of the fabric.
It is also equipped with pressure sensors, allowing the manipulation of thick materials without overexerting pressure.
µGripper is compatible with different types of materials, such as:
Cotton;
Polyester;
Nappa;
Sublimation sheets;
Paper.
By allowing different profiles for each material type, other materials can be configured for manipulation with µGripper.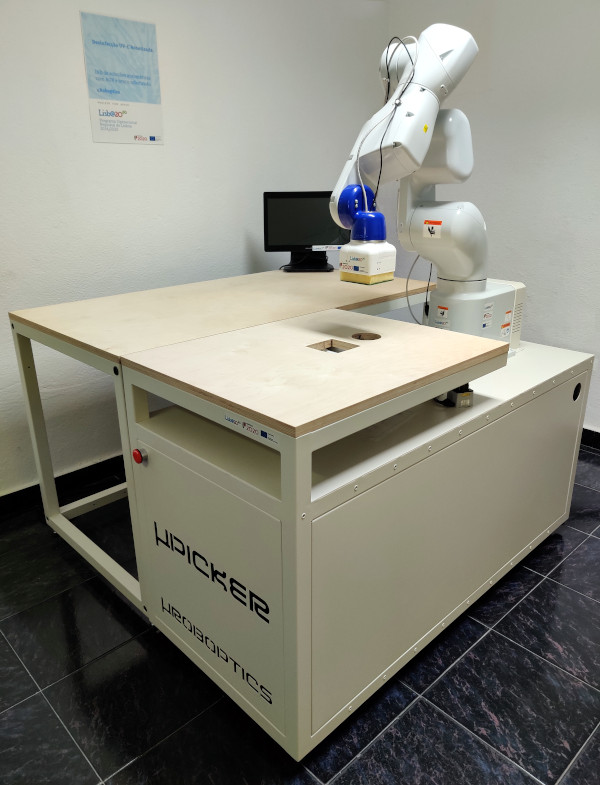 µPicker: Complete solution with UV-C disinfection
Although µGripper can be installed and configured under different manipulators (e.g. triaxial, industrial arms), a complete solution specially tailored for µGripper is available: µPicker
As a workstation, µPicker allows for quick and precise fabric handling using a robotic arm. External machines such as press machines can be placed for the arm to interact with as well, allowing µPicker to work for a multitude of different scenarios.
µPicker also offers capability for fabric disinfection using UV-C germicidal lights. With enough UV-C irradiation, most bacteria and viruses (including SARS-CoV-2, which causes COVID-19) are eliminated without damaging the fabrics and in an environmentally friendly way.
µPicker for production includes:
Industrial robotic arm with 6 DoF;
Workspace for fabric placement;
Cameras for precise material manipulation;
LIDAR curtain to prevent collisions with external obstacles and operators;
A desktop computer with µPicker's software installed.
µPicker for disinfection also includes:
UV-C lights for disinfection.
Get in touch
Looking to integrate µGripper to your manipulator? More information regarding µPicker? General inquiries?
Let us know at: