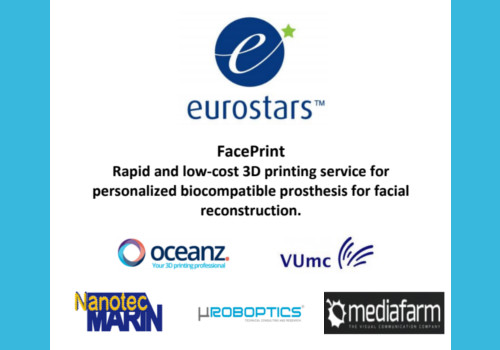 3D printing service for prosthetics
The FacePrint project will develop a rapid and low-cost 3D printing service for facial prosthetics. The consortium will initially develop this service for auricular and nasal prostheses that perfectly matches facial features such as shape, rigidity, and the skin tone of patients.
A cloud-based interface is used to design the patient-specific ear and nose prosthesis. Subsequently, a unique 3D print process and biocompatible material is used to construct the prosthesis.
Awards:
Eureka Innovation Award: Best Portuguese Project (Global Innovation Summit 2022, Portugal)
Partners:
Nanotecmarin Gmbh (Germany)
Vu Medical Center (Netherlands)
Oceanz B.v. (Netherlands)
PurpleScout (Denmark)
Websites:
FacePrint: https://faceprint.roboptics.pt/
Eurostars: https://www.eurostars-eureka.eu/project/id/11439

Co-funded by EUREKA member
countries and the European Union
Horizon 2020 Framework Programme.